The Mademoiselle
Viscount of Masks, Domina Personae
Aspect
0
5 AMP
0 CP
Domain
2
5 DMP
6 CP
Masks…
… hide your true self (2)
… dictate what others see of you (1)
… are glamorous and exciting (1)
… free you from laws and social obligations (1)
… transform you into a god or a monster (1)
Persona
4
5 PMP
12 CP
Treasure
0
5 TMP
0 CP
Passion and Skills
Passion: I must be the center of attention (1)
Passion: I'll try anything once (1)
Skill: Actress (4)
Skill: Dancer (1)
Cool 1
Shine 4
Bonds and Afflictions
Bond: I crave your adulation (2)
Bond: Style is substance (3)
Bond: I uplift and transform you (1)
Bond: I cannot show true fear (1)
Bond: I must love and trust my Familia (1)
Affliction: I am not what you think I am (3)
Affliction: I have dramatic mood lighting! (1)
(1 remaining)
Gifts
Elusive
Mountebank
Aspect 7 based off Skill: Stage Magician; simple -1, one target -2, full flexibility +1, uncommon +1 = 6 CP
The Mademoiselle can perform impossible feats of legerdemain, misdirection and acrobatics: she can steal your heart right out of your chest, slip through the keyhole in a door, hide behind her own shadow, vanish into the space between eyeblinks, or produce improbable objects from her sleeves/hat/dress.
Appearance
The Mademoiselle is a rather fetching young woman with fair skin, dark hair and a lively manner. Her style of dress varies depending on the occasion and her whims of the moment (probably not in that order of importance); her taste in fashion slants heavily towards bright colors and striking, dramatic clothing. She has a particular soft spot for feathers, sequins, and slinky red dresses.
Nobody has ever seen her without a mask. (Not to their knowledge, anyway. But how can you be sure?)
History
Stripped of self and tossed aside by a mysterious nemesis, the Mademoiselle was left broken on the doorstep of the fallen angel Shekoliel. There, among the mad and the dispossessed, she recreated herself from nothing!
Life Path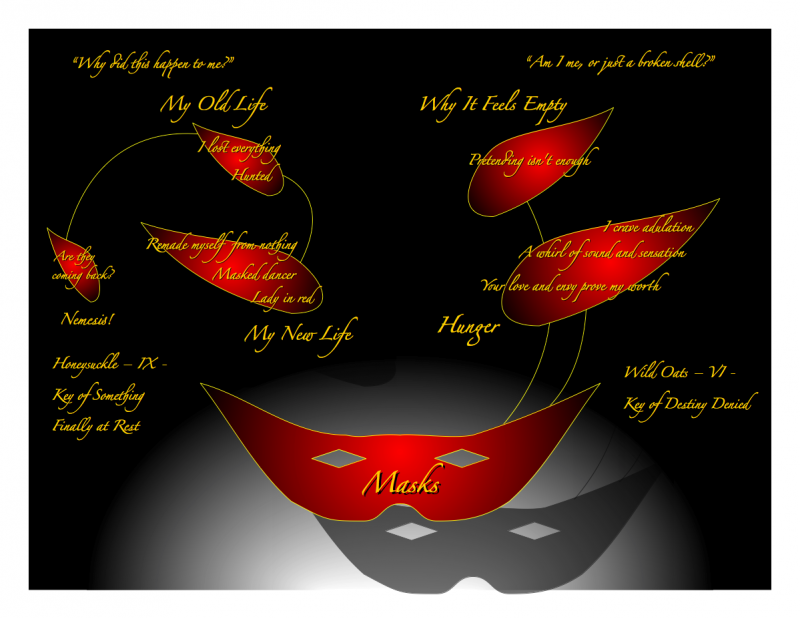 Domain Miracle Chart
| | |
| --- | --- |
| 0 | … |
| 1 | … |
| 2 | … |
| 3 | … |
| 4 | … |
| 5 | … |
| 6 | … |
| 7 | … |
| 8 | … |
| 9 | … |
Persona Miracle Chart
| | |
| --- | --- |
| 0 | … |
| 1 | … |
| 2 | … |
| 3 | … |
| 4 | … |
| 5 | … |
| 6 | … |
| 7 | … |
| 8 | … |
| 9 | … |